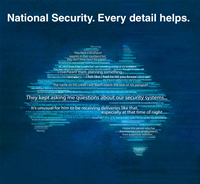 Electronic Frontiers Australia (EFA) is deeply concerned about the proposed changes to National Security legislation foreshadowed in the Discussion Paper issued this week by the Attorney-General's Department for consideration by Federal Parliament's Joint Committee on Intelligence and Security.
These proposed changes, if implemented in their entirety, would appear to amount to a massive expansion of surveillance activity across the entire community, accompanied by a corresponding reduction in accountability for that surveillance activity, and are therefore a potentially significant threat to the civil liberties and privacy of all Australians.
It is of particular concern that with such a wide-ranging and potentially significant legislative reform, the community has been given a mere four weeks in which to digest the implications of the proposed changes and to make submissions to the Joint Committee.
EFA is working with other civil liberties organisations to understand the detailed proposals contained within the discussion paper and we will be releasing our comments on what we regard as the most concerning proposals as we work through the paper. Our primary, though by no means only, concerns at this point are with the proposals relating to data retention and to the extension of surveillance powers into the social media realm.
The Discussion Paper is available here (PDF, 689KB): http://aph.gov.au/Parliamentary_Business/Committees/House_of_Representatives_Committees?url=pjcis/nsl2012/additional/discussion%20paper.pdf
Please also see our recent media appearances on this issue:
ABC News 24
Radio National Drive
The Wire (Community Radio)
Image above Copyright Commonwealth of Australia, licensed under a Creative Commons Attribution 3.0 Australia Licence.